FACILITY
CLASS ROOM :
The Institution has ample number of spacious and well ventilated classrooms. Classroom are equipped with full teaching learning facilities. Institution has provide stress-free environment where students and teachers feel comfortable. Classroom have built in Black/Green/White Board with adequate seating arrangement for students. Also class room have desk/dais for teacher. Classroom have racks/ cupboard for keeping teaching aids for conduct the classes.
AUDITORIUM :
A well-equipped auditorium with seating for over 500 people serves as the venue for the regular conferences, workshops and seminars that are part of the learning process. It is a venue for large conferences and seminars. It hosts a range of cultural activities. It serves as an examination center for large groups. Last but not the least; it is also designed to accommodate sporting activity and games. The seminar hall is spacious, well ventilated and well furnished. It also offers facilities such as LCD and OHP projectors, screens, white-boards for delivering lectures.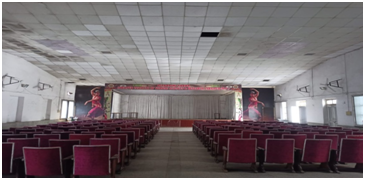 LIBRARY :
Library is situated in the second floor with all the books required for the students. The Library stocks large numbers of books of various subjects in nursing and allied health sciences. Reputed journals, both Indian and foreign are available in libraries. The total number of books in library runs over 10,000 titles. Library holdings card index for the students. Students are encouraged to avail other facilities like e-mail, internet, CD-ROM browsing & photocopying. Ample and separate reading space has been provided to both the students and faculty along with comfortable seating arrangements. Research cell/corner is equipped with thesis, dissertation & CD's, Research journals for reference material of B. Sc. Nursing & M. Sc. Nursing students.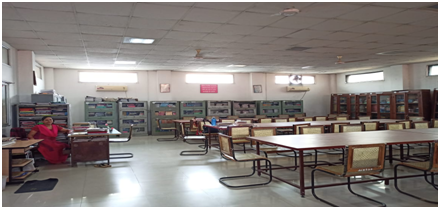 LABORATORY :
NURSING FUNDATION & MEDICAL SURGICAL LAB
Nursing foundation course is designed to help the students to develop and understanding the philosophy, objective, theories and process of nursing in various clinical settings. It aimed at helping the students to acquire knowledge, understanding and develop skill in techniquies of nursing procedures and practice them in clinical setting. The fundamental of nursing skills  lab is the practical area of the students, where they perform all nursing procedures prior to the exposure to the clinical field. The faculty uses the lab for various demonstrations of procedures in nursing.  For which we have well equipped lab with  beds, manikins for performing and practice of various nursing procedures including CPR. Medical Surgical Nursing course is designed to help the students to acquire knowledge and develop proficiency in caring for patients with medical and surgical disorders in varieties of hospitals and health care settings and also at home. The various skills related to medical and surgical conditions, performing related nursing procedures will be taught as first hand experience in the lab combined with nursing foundation lab.

2. Nutrition Lab :
The course is designed to help the students to acquire knowledge of nutrition for maintainance of optimum health of different stages of life and its application to nursing. This is a separate lab equipped with various models, posters, flash cards, flip charts for nutrition education and also various utensils emphasizing on therapeutic nutrition and accessories to prepare different recipes according to different kinds of food for different illness.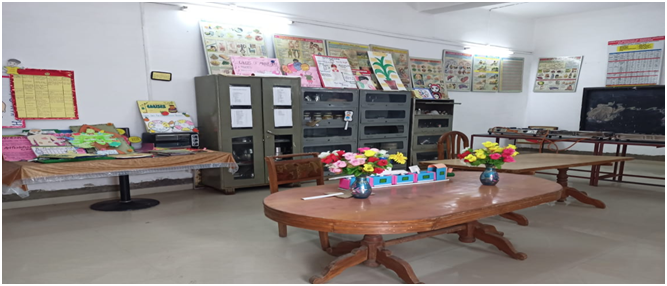 3. OBG & PAEDIATRIC LAB :
This course is designed for students to appreciate the concepts and principles of Midwifery and Obstetrical nursing. It helps students to acquire knowledge and skills in rendering nursing service to normal and high risk pregnant women to antenatal, natal and postnatal periods in hospital and community settings. It also helps to develop skills in managing normal and high risk neonates and participate in family welfare programmes. This laboratory provide first hand experience in assessment of antenatal case, intranatal case, post natal case, neonatal assessment and demonstration of nursing care and handling problems accordingly.
The lab provides students with a realistic, simulated clinical environment to practice and demonstrate competency of selected obstetric skills. These help the students to acquire Knowledge & skill in mother & New born care that are to be practiced in clinical settings. Child health nursing course is designed to help the students to develop an understanding of the modern approach to child care, identification, prevention and nursing management of common health problems of newborn and children. This lab provides solid foundation for peadiatric nursing i.e. first hand experience to handling neonates and children with the help of simulated model (manikins) and also performing related nursing procedures, before going to actual clinical settings.

4. Community Health Nursing :
This course is designed for the students to develop an understanding of the recent modern approach to appreciate the principles of promotion and maintain of health and also identification, prevention and management of common health problems in collaboration with community health team and members of the family and also with community leader, This laboratory, equipped with community bags, for learning bag techniques, and various audiovisual aids related to community health concern. In our institute the community lab is proper equipped and well furnished with healthy environment of learning.The lab consist of the all equipment for providing the basic care in term of primary health care like community bag, Maternity kit and others.The lab is arranged in such a manner that the student of the nursing programme can practice the procedure and make their effective A.V aids by using various charts displayed in community health care and education programme for raising the health status of individual. The college is providing all the necessary articles to student for their better Community Health care understanding.

5. Computer Lab :
This course designed for students to develop basic understandings of the use of computers and its applications in nursing. The Computer Lab is the lab most convenient for students enrolled in our Nursing programs. The lab is located on the 2nd floor, with the help of computer teachers it becomes easier for the students to learn and to carry out research work.
HOSTEL :
Boys and Girls have separate hostel facilities. The rooms are well furnished with attached bathrooms and a hygienic .Mess facility is available round the clock. Clean and airy, the rooms offer beds, wardrobes and study tables and chairs. A common room with recreational facilities, laundry facilities and mess facilities are features of each of the hostels, besides a visitors room. Visitors and others are accommodated in well furnished guest houses which are available on advance intimation and availability.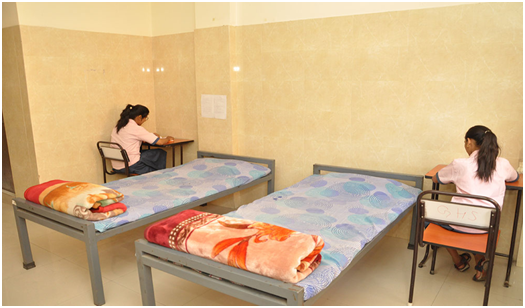 TRANSPORTATION :
The college has its own fleet of buses . College provides college bus for every year students to travel distance from hostel to college, medical to college, community to college and for other TRANSPORT related to college. Additionally, the college has added advantage of being well connected to the Metro bus services and a major station of the under commission. Railway Station is just a few minutes away.